Updated On: Dec 341, 2017

A Brief History of Local Union 697
The International Brotherhood of Electrical Workers Local 697, which now covers Lake and Newton Counties, was chartered on June 12, 1911. There were only nine electrical workers at the time. Those charter members were A.M. Grainger, John B. Kelly, William J. Knoth, George McDonald, Frank Seliger, R.O. Stiles, H.G. Wesbecker, Bert Wheeler, and C.F. Wysing. Although those brothers have passed away, we all owe them a debt of gratitude for having the courage to start our Local back in those days.

Back in 1911, there was very little to encourage this small group of men, who held their first meeting in the basement of the old Hotel Gary. The opposition to Unions at that time was very active and bitter. The obstacles seemed to be insurmountable and many a less hardy soul would have given up in despair.

Our Local Union not only survived, but has grown because these men and those who followed have organized the electrical industry in our area. They have promoted reasonable methods of work, cultivated feelings of friendship among our contractors and those in our industry, settled disputes between the parties in a reasonable manner and assisted each other in times of need. They have been able to secure a high standard of living and security for their members because of the Local's high standard of quality and productivity.

The wages for Journeymen in 1911 were $5.50 a day. The men worked 8 hours per day, Monday through Friday and 4 hours on Saturday when work was available. The wage scale remained in effect until April 1, 1916 when it was increased to $6.00 a day for Journeymen and $7.00 a day for a Foreman. In April, 1918 the wage scale went to $7.00 a day for Journeymen. There were no fringe benefits.

During the years following 1911, many capable men were organized into this Local Union and a number of them took a very active part in the growth of our organization. There have been many others who have served this Local as delegates to the Building Trades, the AFL/CIO, International Conventions as well as all those brothers and sisters who served on our many committees when help was needed. We thank and honor them all.

Our certified Credit Union was chartered in 1958. By 1976 it had $6,000,000 in assets. Today it has assets of $30,000,000, and has proven to be very valuable to our members and their families.

Our Local has always taken an active interest in civic affairs, giving back to our communities whether it be for the Lake Area United Way, TradeWinds, Early Learning Partnership, American Heart Association, Pirates, Red Cross, March of Dimes, Rebuilding Together, Folds of Honor, Halo of Hope, Franciscan Communities, Hammond Optimist Club, Northwest Indiana Food Bank, American Legions and many others with financial and volunteer efforts of our members.

It was not until 1927 that an apprenticeship program was started at Hammond Technical High School with 15 apprentices under the direction of Local Union 697. In 1939 the Joint Apprenticeship Training Committee was formed. The training continued there until 1952 when it was moved to Purdue University Calumet. In the early 60's the school was moved above "Flick's Tap" and in February of 1968, a new modern school was completed where we trained our apprentices until January 2011.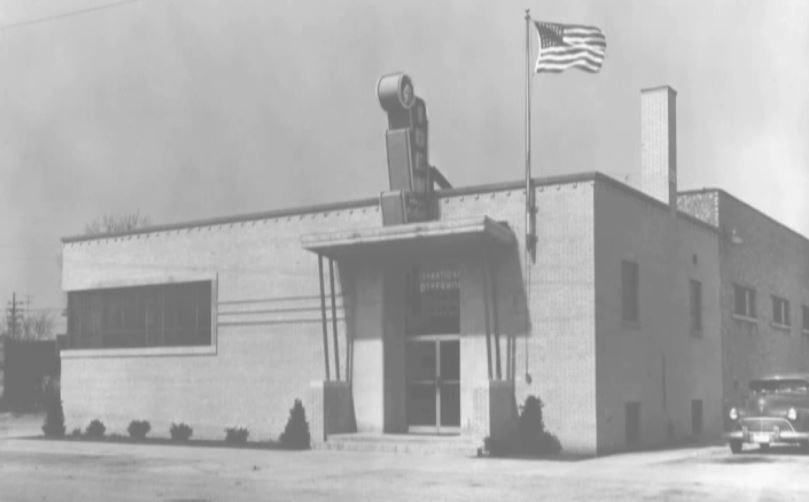 In 1950, the membership built a new Union Hall, which at the time, was more than adequate. Since that date, we added a Credit Union, & a Benefits office within the same facility. By 1980, the structure grew very cramped and inadequate. The Local 697 leaders envisioned a new, more modern facility at a location more central to the membership. It wasn't until the late 1990's those dreams begin to become a plan. It started with generating a long term building fund that was approved by the members of Local 697. In 2007 the search for a new location began and an architectural firm was retained for the project.
In January 2011, we celebrated Local 697's 100th year anniversary and the completion of our new Building - INTAC 697 located at 7200 Mississippi Street in Merrillville, Indiana. INTAC is an acronym that stands for IBEW NECA Training Adminstration Center. Our new facility houses our Local Union Hall, Local Union Office, Benefit Funds Offices, Credit Union, and our state of the art Apprenticeship Training Center. The building is LEED GOLD Certified and those members who are injured or elderly don't have to climb stairs to conduct their business.
Let us not forget!
On September 11, 2001, the United States of America was attacked and a terrible tragedy which we will never forget befell our nation. However, instead of dividing our country, Americans showed the world that we can work together for the common good of all, and it drew this nation closer together. And so it is with our Union. From a humble beginning with just 9 men over 100 years ago, we have grown to the organization we have become today because......UNITED WE STAND!

"Only a fool would deprive working men and women of the right to join

the union of their choice."
-Dwight D. Eisenhower